Hello! if you asked: yes i'm still making 1-bit art, tho 1-bit art was not supposed to be published.
The action game: it is still indev, but here's a video
"The Crazy Boy" watermark is because my brother is making a youtube channel, it is on spanish!
I know this is not instagram, but i don't want to use instagram. ( c'mon it's instagram! :/ ).
This is the very delicious "Guiso" i eated today.
Rice, Peas, Tomato sauce and some heat and... Uala! some delicious masterpiece!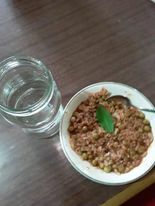 photo of the Meal seconds before being eaten ( it was delicious )